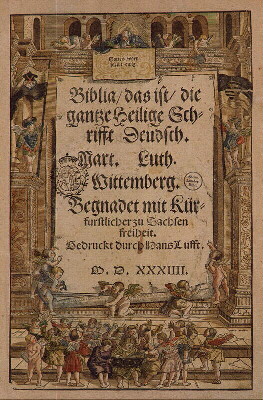 In no particular order...
- The phrase "faith alone" appears in the Bible only once, in
James 2.24
: "You see that a person is justified by what he does and not by faith alone."
- The exact 66 book canon used by Protestants as their Bible did not exist until the 16th century. No theologian, bishop, or Christian group claimed the exact combination until Protestants created it. Protestants made their canon by removing books and portions of books which had been universally accepted as part of the Bible for centuries.
- Martin Luther, hero of Bible-defending Protestants, in addition to removing books such as Wisdom and Tobit, also attempted to remove the New Testament books of Hebrews, James, Jude, and Revelation from the canon. In his famous German translation, he took them out of order and placed them at the end with a note that he didn't think they were Scripture.
- Although his translation of the Bible into German is often hailed as a break-through in bringing the Scriptures into the venacular, Martin Luther's was not the first - the Catholic Church had already made at least 18 different full translations of the Bible into German.
- Prior to the 16th century, no Christians anywhere had ever conceived of the Church apart of the concept of apostolic authority and succession, as Protestants do. (Aside from, of course,
heretics
such as the Gnostics.)
-
In addition to the Scriptures themselves, which bear witness to apostolic authority and succession, extra-Biblical Christian writings as early as
within the 1st century
bear witness to the fact that the apostles passed their authority on to successors who passed it on to others, and that the Church was visibly built around such authority.
- The doctrine of
sola scriptura
is found
nowhere
in Scripture. In fact, the opposite is taught: "So then, brothers, stand firm and hold to the traditions that you were taught by us, either by our spoken word or by letter." (2 Thess 2.15)
- Nowhere does the Bible say that either baptism or the Lord's Supper are to be taken as merely symbolic. Metaphysical claims are made regarding both without any qualification (e.g.
Romans 6
,
Matthew 26.26-27
).
- Though all evangelicals today reject the doctrine of the perpetual virginity of Mary, Protestant Reformers Martin Luther, Huldrych Zwingli, and John Calvin, and even the later John Wesley, actually agreed with the Catholic Church that Mary remained a virgin her entire life.
- Though many evangelicals criticize the Catholic Church's Sacrament of Reconciliation (Confession), Jesus specifically gives his disciples the power to give and withhold forgiveness in
John 20.22-23
: "
And with that he breathed on them and said, 'Receive the Holy Spirit.
If you forgive anyone his sins, they are forgiven; if you do not forgive them, they are not forgiven.'"